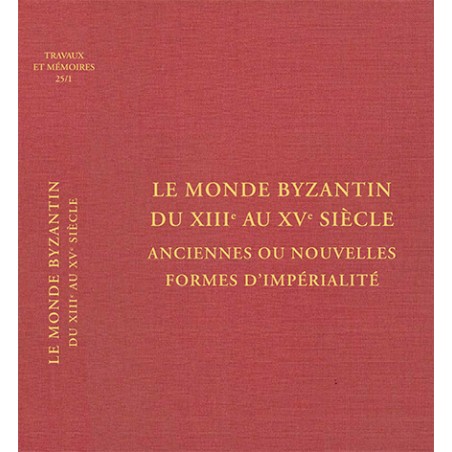  
Tome XXV-1 – Le monde byzantin du XIIIe au XVe siècle anciennes ou nouvelles formes d'impérialité
The period covered in this volume is framed by two falls, that of 1204 and that of 1453. These resounding events have polarized the attention of historians, giving rise to numerous studies which have gone so far as to question the durability of the Byzantine Empire after 1204, considering these two and a half centuries as the epilogue of a long imperial history. The capture of Constantinople by the Crusaders in 1204 opened a period marked by multiple crises, which the conquest of the capital in 1261 by the Palaeologos dynasty did not resolve, while other perils were added: rivalries with other regional powers (in Epirus, Bulgaria, Serbia, the Peloponnese), proselytizing of the Latin Church on the one hand and conversions to Islam on the other, falling agricultural yields, demographic upheavals caused by the eruption of the Black Death or the arrival of new Turkish populations cornered by the Mongol expansion ... The Ottoman conquest of Constantinople in 1453 could thus appear as the logical consequence of a long process of weakening that began at the beginning of the 13th century.
Data sheet
Author

édité par Marie-Hélène Blanchet & Raúl Estangüi Gómez

Release year

2022

ISBN

978-2-916716-83-1
No customer reviews for the moment.