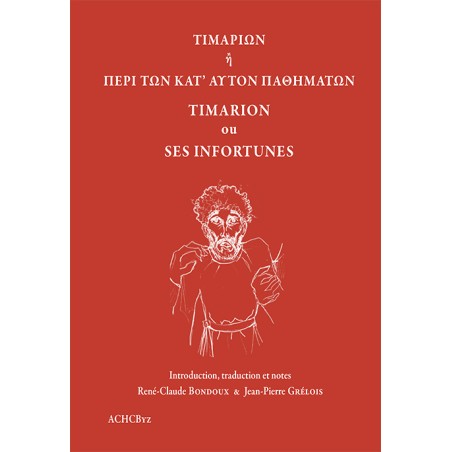  
ΤΙΜΑΡΙΩΝ ἢ ΠΕΡΙ ΤΩΝ ΚΑΤ' ΑΥΤΟΝ ΠΑΘΗΜΑΤΩΝ TIMARION ou SES INFORTUNES
Timarion or Its infortunes is a satirical dialogue composed at the beginning of XIIe century by a Byzantine scholar remained anonymous in spite of the efforts of its successive editors, since C. B. Hase (1813) to P. Vlahakos (2001). In the form of a philosophical dialogue inspired by Lucian, the author, who can be likened to the hero, a Constantinopolitan named Timarion, tells a friend about the misadventures he suffered on his way back from Thessalonica, where he had gone to attend the feast of St. Demetrios and the great fair that was held on that occasion. He became seriously ill and on his way back he was carried off to Hades by demons who believed him to be dead. Before succeeding, fortunately, in having this error recognized by the court of Hades, Timarion frequents the society of the dead, who are very interested in the earthly foods of which they are deprived. Why such an interest?
Data sheet
Author

Introduction, traduction et notes René-Claude Bondoux & Jean-Pierre Grélois (édition bilingue) Illustrations par Alexandra Dudnikova

Release year

2022

ISBN

978-2-916716-78-7
No customer reviews for the moment.